Embattled to Empowered
Are you asked to address the needs of wealthy and prominent families dealing with addiction and recovery?
Embattled to Empowered: How to Choose an Addiction Treatment facility That Works for You is a free, educational ebook designed to help your wealthy and prominent clients confidentially assess their needs and learn the facts about both traditional 12-step and newer non-12-step approaches to addiction treatment.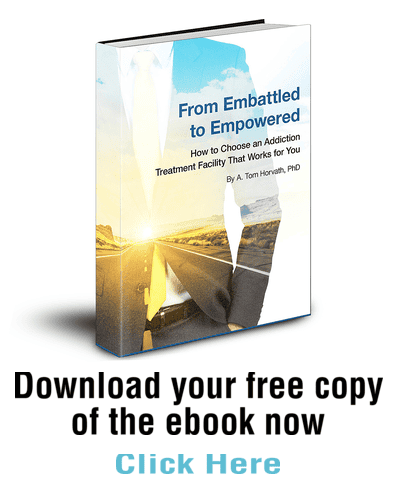 For affluent individuals, traditional addiction treatment may not be helpful. It may even do harm by increasing the risk of the following events:
• Loss of privacy. Painful exposure can occur at mutual help groups, treatment facilities with low standards, and facilities with large numbers of residents and staff. The impact of a breach of confidentiality can be devastating.
• Family disconnection. Overly close relationships within traditional mutual-help groups, such as Alcoholics Anonymous, can be highly disruptive and unnecessarily intrusive to families with considerable wealth.
• Inaccessibility of high-quality psychological support. Contrary to what your clients may be told by sales people, many centers do not have reliable, high-level psychological professionals to offer them guidance. There is also a great reluctance on the part of many treatment facilities to allow critical family participation in treatment.
Embattled to Empowered: How to Choose an Addiction Treatment Facility That Works for You can support your clients of means through arguably one of the most challenging events in a person's lifetime. Your clients will learn vital information about key aspects of addiction treatment, including:
• An overview of addiction treatment. To ensure  successful outcomes it is critical to know how  to compare facilities and the differences between  traditional 12-step and more progressive non-12- step approaches (page 4).
• How to avoid the scare tactics and sales pressure used by treatment facilities (page 5).
• The powerful positive role family members can play (page 15).
• Critical questions to ask before choosing a treatment facility (page 29).
• A layperson's glossary of terms. Words and phrases used by addiction treatment providers and other professionals (page 31).
Obtaining
Embattled to Empowered: How to Choose an Addiction Treatment Facility That Works for You
is as easy as one click.
Follow this link to download your free copy of the ebook
.
Please contact Tom Horvath, PhD, at tom.horvath@practicalrecovery.com or (858) 546-1100 x222 with any questions.
About the Author
For more than 30 years, Tom Horvath, PhD, has provided recovery treatments that work within each individual's goals, values, personality, and situation. He wrote this ebook to ensure that you have the tools you need to successfully support your clients.