Sex, Drugs, Gambling & Chocolate
Sex, Drugs, Gambling & Chocolate:
A Workbook for Overcoming Addictions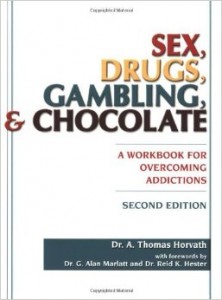 Each of our IOP and IIOP clients receives a copy of Dr. Horvath's groundbreaking workbook, Sex, Drugs, Gambling & Chocolate: A Workbook for Overcoming Addictions (2nd ed., San Luis Obispo: Impact, 2003), which presents a comprehensive and science-based approach on this subject. This workbook teaches readers how to get started on the change process, and increase and maintain motivation by fully understanding the benefits and costs of addictive behavior, coping with craving, experiencing a sense of choice and freedom in recovery, balancing one's life, coping with recurrences (relapses) and retaining suitable outside support.
A Book of Merit
Overviews Summaries for each book chapter.
Chapter 1 The first chapter of SDG&C in its entirety.
Back Cover A short summary of the book's contents, and comments by 6 pre-publication reviewers.
11 Professional Reviews
18 Reviews on Amazon.com
Publisher: Impact Publishers
Released: 2004, 2nd edition
Pages: 224
Available: Barnes & Noble, Amazon.com, Impact Publishers
Forewords: Alan Marlatt, Ph.D. and Reid K. Hester, Ph.D.
Questions and projects at the end of each chapter.
Looking for addiction and recovery resources? Visit our blog!