5 Ideas for an Awesome Sober Halloween
Posted on October 30, 2015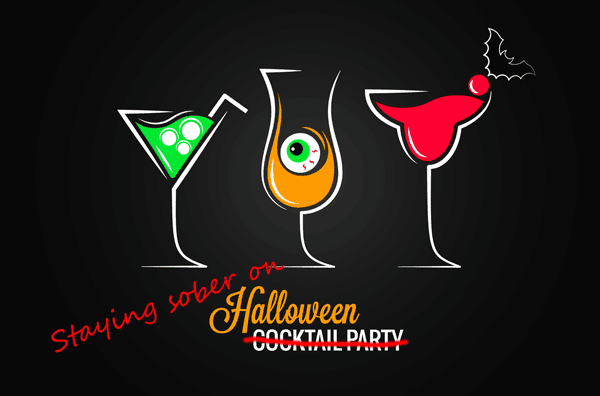 With Halloween kicking off the official holiday season, some of us in recovery (especially newbies) are faced with figuring out how to spend the holidays sober. Celebrating without drugs and alcohol can actually enhance the season, rather than make you feel like you're missing out. Here are 5 ways to get your holiday season off to an awesome start with a fabulous Halloween!
1 – Decorate your house for trick-or-treaters
Aim to be the spookiest house (or apartment) on the block. It's not too late to go all out! Whether you choose to splurge on some decorations (after all, you have saved some money by not drinking or using), or decide to get creative on a shoe-string budget, there are tons of options. Give the kids something to talk about and see if you can be "that house" on the block that everyone's talking about.
2 – Throw your own party
Having your own ghoulish fest allows you to have more control over the attendees and decisions about what is served. If you're not feeling up to having to resist the temptation to drink or use at a party, having your own is the way to go. You can plan to serve the exact foods you like, decide just how much (if any) alcohol will be present, and determine who to invite in order to maximize your sober holiday experience.
3 – Fright fest movie night
What better way to celebrate Halloween than to hold your very own movie marathon? There are several ways to go with this one – you can opt for a night of cliché classics like Poltergeist, Nightmare on Elm Street, Halloween and Carrie. If you're looking for a good scare, check out some titles like Paranormal Activity, The Last Exorcism, The Sacrament and [REC].
4 – Volunteer
Call some of your local shelters and orphanages and see if they need any volunteers to help with holiday parties, taking the kids trick-or-treating, or even just serving up dinner. This is a great way to stay involved with your community, participate in the festivities and to give back. Not only will you stay sober, you'll go to bed feeling like you did something good. It's a win-win!
5 – Dash and hustle
See what Halloween races are in your area. Many cities have 5ks like the Halloween Hustle and the Monster Dash. You can usually get signed up until just before the race starts, so it's not too late to start looking for a race to join. Not a runner? See if the race allows walkers (most do) and just commit to walking it. Just like #4 above, not only will you stay sober, you'll go to bed feeling great about doing something good!
Whatever you do to celebrate the holiday, remember to congratulate yourself on a job well-done. Holidays can be a trigger for cravings and it often takes a little bit (or a lot) of extra effort to resist temptation, especially when you're new to recovery. But that doesn't mean you can't do it – if there's one common denominator between individuals in recovery, it's that they can do anything they put their minds to!
Happy Halloween!