The Best College Recovery Programs for Students in Every State
Posted on November 28, 2018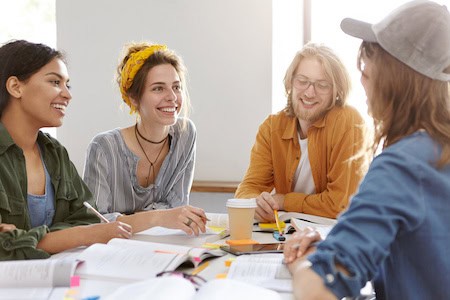 A collegiate recovery program can mean all the difference to a young person in recovery. Having a program like this available on campus means they do not have to choose between recovery and a higher education. It provides students with an avenue to stay committed to recovery, while focusing on school, and having a community of support in a setting where it's stereotypically a place to overindulge in substances.
We researched colleges across the country that understand this and have dedicated university resources to supporting students in recovery. This is far from all, but is a great showing of support for the recovery community in higher education.
U.S. Universities with Recovery Programs for Students
Alabama
University of Alabama in Tuscaloosa, AL – The Collegiate Recovery and Intervention Services welcomes students with a support community with daily meetings, outdoor adventures, sober tailgates, a guest speaker series, and other sober events.
Alaska
University of Alaska, Anchorage in Anchorage, AK – The Alcohol, Drug, and Wellness Education program provides a variety of services and resources to students. Some of which include a safe place to meet weekly to relax, enjoy peace, eat, and study. It also has awareness events, meetings, counseling, and interventions when necessary.
Arizona
Arizona State University in Tempe, AZ – Recovery Rising supports the ASU community by providing students in recovery regular support and meetings, social events, educational opportunities, and more.
Arkansas
University of Arkansas in Fayetteville, AR – Substance Education and Alcohol Resources (SEAR) works to raise awareness around substance abuse, and provides regular Razorbacks Support Group meetings as well as sober social events throughout the year.
California
San Diego State University in San Diego, CA – Aztecs in Recovery assists students in recovery by raising awareness, reducing stigma, connecting students in recovery, offering support, putting on fun events, and providing a safe and comfortable space for students in recovery.
Colorado
University of Colorado in Boulder, CO – University of Colorado-Boulder Collegiate Recovery Center (CUCRC) offers sobriety-friendly campus housing, weekly meetings, monthly events, and a support community. SoberBuffs is a campus leadership team that plans Friday sober social events.
Connecticut
Fairfield University in Fairfield, CT – The Collegiate Recovery Program offers a substance-free environment for students in recovery. Some of the services include recovery housing, a sober lounge on campus, regular meetings, recreational activities, and wellness programming.
Delaware
University of Delaware in Newark, DE – Collegiate Recovery Community has been helping students recovering from drug and alcohol addiction since 2014. The group hosts meetings every Tuesday to support students in their journey for a sober lifestyle. They also offer peer support, social events and celebrations, as well as opportunities for advocacy, leadership, and training.
Florida
University of Central Florida in Orlando, FL – Student Health Services hosts weekly on-campus meetings, day-time events and weekly nightlife events like Sober Knights and ThePoint After Dark.
Georgia
Georgia Southern University in Statesboro, GA – Center for Addiction Recovery serves students in long-term recovery. The program requires students be in recovery for at least six months. The center offers weekly seminars, meetings, opportunities for service work, and the chance to study sober abroad.
Hawaii
Practical Recovery could not find information online on any Hawaiian Universities offering programs for students in recovery. If you know of a program in Hawaii, email us and let us know to add it!
Idaho
Boise State University in Boise, ID – Idaho RADAR Center is an information and support organization for Boise State students in recovery. The program offers drug and alcohol recovery support meetings and coordinated events with The Phoenix, free and open to anyone with 48 hours of continuous sobriety.
Illinois
Illinois State University in Normal, IL – Collegiate Recovery Community is a volunteer program for student in recovery. The program boasts coaching, weekly drop-in meetings, mentorship, sober networking and social activities, awareness and community service projects, and much more.
Indiana
Indiana University Bloomington in Bloomington, IN – OASIS provides support to students in recovery. The group holds events and presentations to celebrate recovery, weekly meetings, and social events like coffee shop crawls and bowling get togethers.
Iowa
University of Iowa in Iowa City, IA – The Collegiate Recovery Program provides a supportive environment to aid a student's recovery journey. They offer regular support meetings, discussion groups, resources for students and families, as well as fun events like open mic nights, and panel discussions.
Kansas
Kansas State University in Manhattan, KS – The Alcohol and Drug Education (AODE) program focuses efforts on prevention and intervention with private counseling and outreach programs.
Kentucky
University of Kentucky in Lexington, KY – Collegiate Recovery Program gives a safe and supportive community for students in recovery from drugs and alcohol. Students are required to apply for the program, attend regular meetings, and participate in the planned events.
Louisiana
Practical Recovery could not find information online on any Louisiana Universities offering programs for students in recovery. If you know of a program in Louisiana, email us and let us know to add it!
Maine
University of Maine in Orono, ME – Black Bears for Recovery hosts meetings, workshops, awareness events, and available times at the Mind Spa – a relaxation space on campus for students in recovery.
Maryland
Loyola University Maryland in Baltimore, MD – Cardoner is the university's collegiate recovery community and is the first formalized collegiate recovery community in Maryland. They provide group meetings, individual and group counseling, and regular sober social activities throughout the year.
Massachusetts
University of Massachusetts Boston in Boston, MA – Recovery Support Program helps students in recovery attain their personal and academic goals. The group hosts support groups, regular meetings, opportunities to give back to the community, and substance-free events for students.
Michigan
Central Michigan University in Mount Pleasant, MI – Central Michigan Collegiate Recovery Education and Wellness (CMCREW) offers students regular support group, peer mentorship, educational classes, and sober parties.
Minnesota
Augsburg University in Minneapolis, MN – StepUp Program, is the largest recovery-based support program in America. It provides structure for the students enrolled by offering substance-free housing, weekly small and large meetings, a mentor program, and more at no cost.
Mississippi
Mississippi State University in Starkville, MS – Collegiate Recovery Community hosts frequent seminar classes, special speaker meetings, support groups, sober tailgates, and more fun drugs-and-alcohol-free social, retreats, and other events.
Missouri
Missouri State University in Springfield, MO – Bears in Recovery is dedicated to assisting their students in recovery. They offer peer support, on-campus meetings, leadership and service opportunities, wellness workshops, and alcohol-and-drug-free events.
Montana
Montana State University in Bozeman, MT – Center for Recovering Students hosts weekly support group meetings, monthly study nights, peer mentorship, and regular fun social get togethers.
Nebraska
University of Nebraska Omaha in Omaha, NE – UNO Recovery Community is a safe place for students in recovery from addiction. The group has three on-campus meetings per week and is committed to providing support for its students.
Nevada
University of Nevada, Reno in Reno, NV – Nevada's Recovery & Prevention Community (NRAP) provides connections and support for students recovering from substance addictions. The group has a mentor program, several peer led groups with different focuses on recovery, and several other events each month.
New Hampshire
Practical Recovery could not find information online on any New Hampshire Universities offering programs for students in recovery. If you know of a program in New Hampshire email us and let us know to add it!
New Jersey
Rutgers University in New Brunswick, NJ – Alcohol and Other Drug Assistance Program (ADAP) offers a recovery support program with sober housing, social events, and routine group meetings.
New Mexico
University of New Mexico in Albuquerque, NM – Campus Office of Substance Abuse Prevention (COSAP) focuses on education, awareness, and building a supporting, inviting environment for students in recovery to meet and empower each other.
New York
New York University in New York, NY – Counseling and Wellness Services provides several options for individuals seeking assistance in their recovery journey. They also offer "Recovery and Me," a group for those who are sober and looking for a safe, supportive environment to sustain their sobriety.
North Carolina
University of North Carolina at Chapel Hill in Chapel Hill, NC – Carolina Recovery Program has free and fun programming designed to help its students through their recovery journey. Upon joining, students can get a recovery mentor, attend workshops, and attend sober trips and conferences. The university also offers recovery housing option on and off campus, and an alumni mentor program to give back and stay connected after graduation.
North Dakota
University of North Dakota in Grand Forks, ND – University Counseling Center offers a range of services for students in recovery. Some services include alcohol and other drugs counseling on an individual and group level, outpatient treatment, and educational workshops and presentations throughout the year.
Ohio
Ohio University in Athens, OH – R.I.S.E., which stands for Recovery to Inspire, Share, and Empower, is the university's official recovery community. It offers two support meetings and sober social activities every week for students.
Oklahoma
University of Oklahoma in Norman, OK has a student group dubbed OU's United Students in Service which hosts 12-step recovery meetings twice a week. The university is currently in discussion to launch an official collegiate recovery program on campus.
Oregon
University of Oregon in Eugene, OR – Collegiate Recovery Center holds weekly meetings and seminars and encourage students in recovery to participate in service projects to give back to their community.
Pennsylvania
Saint Joseph's University in Philadelphia, PA – The Flock and SJU provide regular on campus meetings, yoga for recovery, workshops, and awareness events on campus. The Flock is piloting a program in 2019 for campus housing for students in recovery.
Rhode Island
Brown University in Providence, RI – Early Sobriety Group is a weekly meeting from students in recovery from drugs or alcohol. The group does not require students be a part of any other recovery program to participate.
South Carolina
College of Charleston in Charleston, SC – Collegiate Recovery Program has a lounge suite with a meeting and study space and hosts weekly open and members-only meetings as well as educational seminars and sober parties.
South Dakota
Northern State University in Aberdeen, SD – The campus counseling center provides frequent group and individual counseling sessions free of charge for those recovering from addiction.
Tennessee
University of Tennessee, Knoxville in Knoxville, TN – Rocky Top Recovery Group is dedicated to providing a healthy environment for students in recovery by offering regular support meetings, guest speakers on various topics related to addiction and recovery, and fun get together free of substances.
Texas
University of Texas at Austin in austin, TX – Center for Students in Recovery aims to provide a genuine college experience free from alcohol and other drugs. The group hosts regular support meetings, fun events for holidays, college occasions, and sheds light on important issues like prescription drug take backs.
Utah
The University of Utah in Salt Lake City, UT – Recover @ the U is serious about their program. They recently received $100,000 in ongoing funds from the Utah legislature and are using those funds to provide students with three weekly meetings, sober tailgate parties, and frequent socials.
Vermont
University of Vermont in Burlington, VT – Catamount Recovery Program offers support for students maintaining their recovery while pursuing their college degree. They provide a support community, substance-free housing and activities, meetings, mentorship, and more.
Virginia
Virginia State University in Charlottesville, VA – Hoos in Recovery hosts meetings weekly (with food!), holiday social gatherings, and publishes a weekly newsletter to stay up on all HiR events.
Washington
Washington State University in Pullman, WA – Cougs for Recovery is an organization run by students for students in recovery. The group hosts multiple weekly meetings for those in recovery as well as those contemplating beginning their recovery journey. They also host sober celebrations and fun activities throughout the school year.
West Virginia
West Virginia University in Morgantown, WV – WVU Collegiate Recovery Program supports students in recovery with daily sober activities, support group meetings and Serenity Place, a safe place for students in recovery to relax, study, and hang out with each other.
Wisconsin
University of Wisconsin in Madison in Madison, WI – Live Free is a student-run organization that hosts weekly meetings, panel speaker events, sober social events, wellness workshops, and more.
Wyoming
University of Wyoming in Laramie, WY – Collegiate Recovery Program at the University of Wyoming (CRP-UW) is a recovery support system of UW students. The group has a designated place on campus, speaker events, service opportunities, social gatherings, and more.
This is only a sampling of the universities in the U.S. that offer recovery programs for students, there are many more, both formalized and grassroots, student led groups. Currently, there are three states that do not have universities with any kind of recovery programs for students. If your university does not have a program for students in recovery reach out to school officials for information on how to start or request one.
Each recovery program will be unique to its university and the students it serves. At its very core, these are some of the key components every collegiate recovery programs needs.
Dedicated university staff personnel to spearhead the group's mission and direction

A physical space on campus for meetings and events

Embracing abstinence-based recovery

An active community of students in recovery to offer peer support to each other

Recovery protection and support services
If you or a loved one are in need of treatment for addiction, please give us a call. We can help.