Lasagna Bolognese with Kale and Spinach
Posted on May 28, 2014
Our lovely chef, Sarah, and her kitchen staff have served up another delicious recipe for us to try!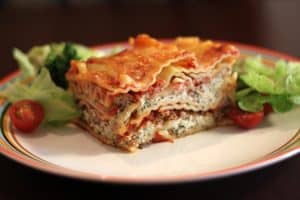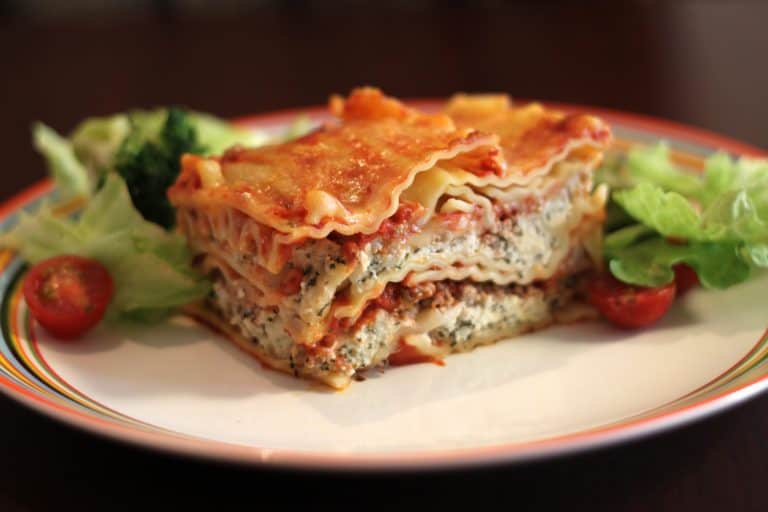 Lasagna Bolognese with Kale and Spinach.
Serves 8
Ingredients:
Sauce:
1/4 cup olive oil
3 oz of pancetta, finely diced
1 onion finely chopped
1 carrot chopped
1 celery rib fine chop
2 cloves garlic chopped
2lb organic ground beef
2lb beef chuck organic (if possible) or bison
1.5 cup milk
1/4 tomato paste
1.5 tsp thyme
1.5c beef or chicken stock
Ricotta Filling:
2×10 oz frozen spinach thawed
1 small bunch toscana kale finely chopped
2x 15oz containers of ricotta
4 organic eggs, beaten
1/2 c grated Parmesan
1/2 tsp grated nutmeg
3/4 c whole milk
Lasagna:
12 Barilla "no boil" dried lasagna noodles
1/2 c grated Parmesan
1x 13'x9′ baking pan (3'inch deep)
Method:
For Sauce:
In heavy skillet, fry pancetta, onion, carrot, celery and garlic
Stir until golden, about 12mins.
Add beef, cook 6-10 mins., stirring occasionally
Stir in milk, tomato paste, and other ingredients
Simmer uncovered, so liquid evaporates, about 1 hour.
For Filling:
Squeeze out water from spinach
Cook kale, drain.
Whisk together ricotta, salt and pepper
Combine 1/4c milk with 1.5 cups ricotta, whisk and set to one side.
Add spinach and kale to remaining filling and whisk together with remaining milk
Assembly:
Lasagna
Preheat oven to 375
Soak noodle in warm water until pliable, drain and place on kitchen towel
Spread 1.5c bolognese sauce in baking dish
Sprinkle with 1 tsp Parmesan cheese.
Cover with 3 noodles (leaving a space between each)
Repeat 2x
Top with remaining sauce, then ricotta mixture and final sprinkle of cheese
Cover with foil and bake for 50 mins.
Remove foil, bake until top is brown
Let rest for 15 mins…enjoy!
Yum!