National Report says MAT is Frontline Defense in Opioid Epidemic
Posted on May 24, 2019
by Thaddeus Camlin, Psy.D.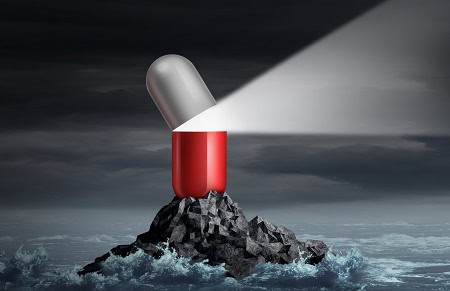 Despite unfounded resistance, Medication-Assisted Treatment (MAT) is increasingly considered the treatment of choice to combat what is commonly referred to as an opioid epidemic.  A report issued this week from the American Association for the Treatment of Opioid Dependence (AATOD) solidifies MAT as a frontline defense in the opioid crisis and makes important points about how to increase the accessibility and effectiveness of MAT addiction treatment in the United States.
Unsupported Restrictions on MAT Services
Many cumbersome, unsupported restrictions remain in place that hinder MAT services in the United States.  The AATOD report states that MAT regulations like waiver policies, patient limits, restrictions on settings where medications are available, and others "are not supported by evidence or employed for other medical disorders."  We know that MAT is the best option for treating opioid problems, it is time to lift restrictions that limit access to potentially life-saving treatments.
The AATOD report also shifts language from medication-assisted treatment to medication-based treatment.  This language shift apparently aims to de-emphasize the counseling component required for access to methadone treatment, which is consistent with current evidence that counseling is best offered as an optional adjunct rather than a requirement.  Requiring counseling in order to access methadone is a deterrent that limits treatment engagement and retention.  It is time to make counseling optional and to make methadone easily accessible via methods like pharmacy dosing.
The AATOD report also discusses the lack of research into patient medication preferences.  While more research is needed to better understand effective ways to determine which medications are most likely to help which individuals, for now, the AATOD report emphasizes the importance of patient preference in selecting medication.  In general, information to date suggests that the majority of people will prefer methadone over buprenorphine, which adds further urgency to actions that increase access to methadone.
I would of course add to the important arguments advanced by the AATOD report, the need to diversify medication options to include other opioids so U.S. efforts to treat opioid problems begin to keep pace with more sophisticated and effective efforts in other countries.  I already wrote about the need to use diamorphine as a medication to treat opioid problems because the approach is currently yielding exceptional results in multiple countries as a treatment option for people who do not respond well to methadone or buprenorphine.
MAT Addiction Treatment – Part of a Client-Centered Approach
The AATOD report is yet another call to action to improve treatment options and treatment access for those struggling with problems related to opioids.  The report also adds credibility to the call to investigate MAT for other addictions, like desoxyn replacement for methamphetamine.  The time is past due to remove regulations that restrict both medication treatment options and access to medication-based treatments, to remove mandated counseling requirements for methadone, and to let a person's medication preference be the primary decisive factor in which medication is used in treatment.  If we truly want to reduce opioid-related problems then MAT will, with haste, be made widely available, easily accessible, and affordable.